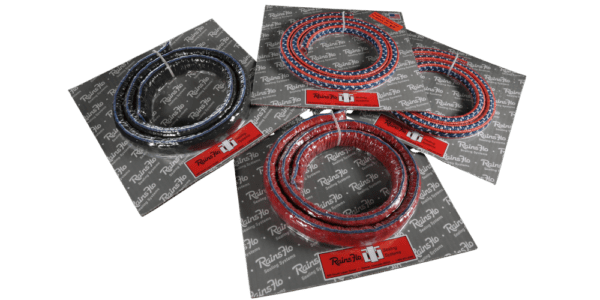 Braided packing has been standard in many plants for decades, despite its flaws. Namely, its tendency to leak has caused unnecessary headache for many plant operators throughout the years. Factor this in with heavier shaft wear and more frequent maintenance, and it's clear that braided packings are in need of a more effective, longer-lasting alternative.
RainsFlo has the answers to all of these shortcomings of braided packings, and more. In this article, we'll show you how RainsFlo is better than braided packing and the last packing solution you and your plant will ever need.
No Drips, No Leaks
With RainsFlo, you can wave goodbye to the drip pans underneath your pumps. RainsFlo's unique ability to adapt to and seal around the unique shape of your pumps' shafts means that you'll experience greatly reduced leakage, or often no leakage whatsoever! This is thanks to RainsFlo's GFM "flowable" construction, it will contort its shape within your shaft to account for any irregularities, creating the best possible seal any sealing solution can provide. Braided packings, mechanical packings, etc. simply aren't able to keep up with packings with adaption capabilities like RainsFlo.
RainsFlo is Self-Lubricating
RainsFlo has excess lubricant built into each packing, which provides several benefits to any pump and shaft. First, RainsFlo's excess lubricant ensures that it stays working at peak performance and stops itself from drying out. This also means enhanced shaft longevity, as lubricated packings mean less wear over time. And notably, if overtightened, RainsFlo will simply release its internal excess lubricant instead of further pitting or damaging your shaft, as opposed to traditional braided packing which cannot.
Increase Your Shaft & Packing Life
RainsFlo is the longest-living packing system on the market. Thanks largely to its aforementioned flowable nature, it adapts to your stuffing box's unique shape without exacerbating any preexisting flaws. Another key concept of RainsFlo's flowable nature is its heat conductive capabilities, which allows it to absorb heat and help prevent the occurrence of hot spots within the stuffing box. Rainsflo is also modular, with our Add-A-Ring Maintenance that allows you to replace one 'ring' of our RainsFlo system without replacing the whole thing. With all these, combined with the self-lubricating RainsFlo has built-in and its ability to adapt to overtightening, RainsFlo may improve your shaft and packing life but up to 300%.
Less Downtime & Operating Costs
Maintenance with RainsFlo is quick and easy. RainsFlo's sealing capabilities mean it's much more resilient to packing contamination. Sealing performance also begins at the base ring of the stuffing box, meaning more even wear and fewer breaks in operation for maintenance. Not to mention, a healthier shaft and stuffing box means lower overall pump maintenance and operating costs. No matter how you spin it, RainsFlo will save your plant money on pump maintenance.
Choose RainsFlo Over Traditional Braided Packing
Self-lubricating, lifespan enhancing, drip preventing. RainsFlo is the best sealing system on the market, and has been trusted by companies across the nation as OEM equipment for decades. Whether you're operating fire pumps, augers, mixers, or any other type of pumping equipment, RainsFlo will save you time, effort, and downtime. See for yourself why RainsFlo is the last packing solution you'll ever need: read a more comprehensive overview of RainsFlo here, and get a quote now by clicking here.