Gear & Progressive Cavity Pumps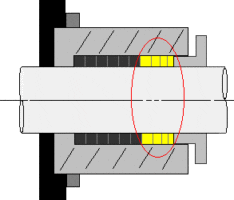 Braided packings are not compatible with these types of pumps, due to the lack of force transfer ability within a deep stuffing box.
Almost all gear and progressive Cavity Pumps have deep stuffing boxes. Braided packing, when adjusted, will get stuck in the stuffing box over-activating the 2 to 3 rings next to the packing gland. This will allow product leakage to enter into the stuffing box, passing 75% of the packing, and relying on just 25% of the packing to seal off leakage. You can see how the rings are not compressed evenly throughout the stuffing box. These braided packing rings will become hard and dry next to the packing gland, causing excessive leakage and wear.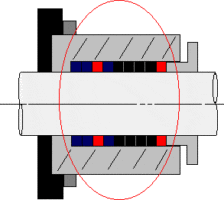 Rains-Flo Sealing Systems, due to its unique design, will allow the adjustment of the packing gland to activate all the rings in the stuffing box.
With Rains-Flo, sealing performance begins at the base ring of the stuffing box and continues throughout the entire packing mass. Leakage is kept to a minimum, which will reduce packing contamination and shaft/sleeve wear. This translates into less leakage, longer packing life, less downtime and operating costs.