Home
Engineered
High-Performance
Packing Systems
RainsFlo Sealing Systems manufactures the only engineered high performance pre-cut packing sets for all compression packing applications in all.
Pumps, Process Equipment, Mixers, Augers and Valves
RainsFlo Packing Systems are specifically designed to greatly reduce leakage while extending packing and shaft/sleeve life at least two or three times longer than braided packing.
RainsFlo tops any other brand of braided packing available on today's market, including brands like Garlock, Chesterton, John Crane, and more. Rains-Flo provides up to 2x to 3x longer packing life when compared to braided packing.
Our secret is the exclusive material we build our systems with, called "GFM," meaning Granulated, Flowable, Material. GFM is self-lubricating and heat conductive, allowing for Rains-Flo to both stay resilient, and adjustable to control leakage.
Rains-Flo also boasts the lowest wear rate on the shaft/sleeve of any provider, meaning Rains-Flo both lasts longer and seals better.
OUR COMPLETE PRODUCT LINEUP
Why Choose Rainsflo Over Traditional Braided Packings?
Braided packings are not as effective as Rains-Flo Sealing Systems in pumps due to the lack of force transfer ability within the stuffing box.
Braided packing, when adjusted, will get stuck in the stuffing box over-activating the 2 to 3 rings next to the packing gland. This will allowproduct leakage to enter into the stuffing box, passing 75% of the packing, and relying on just 25% of the packing to seal off leakage.
You can see how the rings are not compressed evenly throughout the stuffing box. These braided packing rings will become hard and dry next to the packing gland, causing excessive leakage and wear.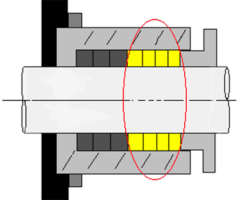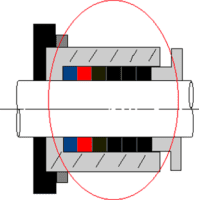 The RainsFlo Sealing System, due to its unique design, will allow the adjustment of the packing gland to activate all the rings in the stuffing box.
With Rains-Flo, sealing performance begins at the base ring of the stuffing box and continues throughout the entire packing mass.
Leakage is kept to a minimum, which will reduce packing contamination and shaft/sleeve wear. This translates into less leakage, longer packing life, less downtime and operating costs.
Allis Chalmers

Ash

Aurora

Crane-Deming

Dean

Denver Orion
Essco
Discflo
Durco
Fairbank Morse
Gallagher
G.I.W.
Goulds
Ingersoll-Rand
Peerless
Warman
Worthington
...All Trust RainsFlo to Seal & Extend the Lifetimes of Their Pumps
If you're interested in using Rains-Flo in your own pumps, contact us to inquire about becoming a Rains-Flo OEM distributor